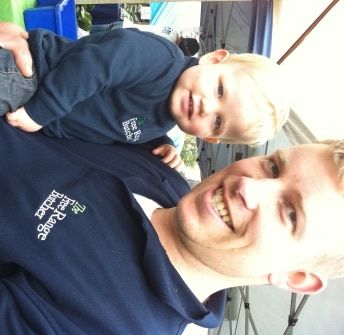 Daddy Day Care at Home and on the Farm
Today is Daddy Day Care around here. Some days we have grandiose plans, other days we don't. Today is one of the latter. I am lying on the couch trying to get a catch up snooze from a busy weekend of markets, but Tom is playing carparks on my belly. The noise he makes as he pushes the cars off the edge and before he lets them go "crash" may suggest to some that they are parked on a mountain and not the small hill that I see. "Weeee crash, Weee crash," as they hit the floor.
I remember being back on the farm – my day care duties started much younger than I realised – my memories of lambs, baby goats, foals, piglets, birds and calves are countless. I could not tell you how many animals we looked after when my sister and I were young.
One time, we had so many lambs that Dad sprayed numbers on their backs so that at feeding time we knew which ones had been fed. We had a kangaroo joey that we kept in a hessian sack, and we cut a slit in one side so it acted like a pouch. I remember it was winter so we kept her by the fire. When she was really young, you would not see her all day except for a few times when she would stick her head out for a quick look. We used to feed her every four hours and when the microwave started, the bag would become a hive of activity, spinning and turning, and her head would fly out, ears up, "I'm ready!". I don't know how she knew, she must have smelt the milk, but no matter how much the microwave was being used she always knew when it was her turn.
The worst part of having all these young animals is letting them go…it's hard at first. We had a rule that when they could fend for themselves they would be let free, some made it, some did not. A farm is a tough place, the miracle of life happens every day, but the prospect of death can be just around the corner too.
Our joey made it, and she stayed close to the house for a while, maybe the first year. Kangaroos make a noise, sort of a tssch tssch. You would be feeding the chooks, or out in the garden and you would hear the noise, she would be there, at a distance saying hello. We were never able to get too close, but she definitely wanted to stay close to us in some way. She eventually disappeared back to the bush but used to come back around the house for a few years when her joeys were young. There was no doubt that she felt tied to us, but her natural instinct was much stronger.
We all have a natural instinct, and today Tom wants to be a miner as he tries to shove his little hand up my left nostril. Tom is just over two now and although some way off being set free to fend for himself, he is making leaps and bounds and his vocabulary is increasing by the day. He seems to have found my brain; "small, small' he says, and cheekily runs away. I give chase and thank my lucky stars that there is not a number on his back and a heap more of the little monkeys running around at Daddy Day Care!
---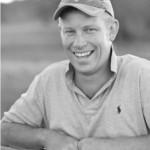 Ben Clinch
Ben Clinch has a strong background in agriculture and has experience in operations and project management. Before starting The Free Range Butcher he worked as jackaroo, camel handler, barman, security guard, handyman, and tiler. These days he manages the day to day running of The Free Range Butcher business, and you can usually find him out the front of the farmers market stall; often telling bad jokes, or offering samples to vegetarians. He's also the go to guy for sales, corporate enquiries, events, and silly questions.
---