Mr Ed Never Did This…
My stories are flowing and we are back in 1994 now. I've been in the Northern Territory for a few months and I've traded my horse in for a fresh one. 'Wiser' be his name. He was last year's colt and is still only young. He was lively out of the yards but we seemed to get on well nonetheless. The only problem was that he fell asleep. Not once or twice, but always… it was the strangest thing.
I wasn't really sure what was going on for a few days. It might have been over a two or three week period and I had ridden him a few times. When things were slow we would sit on our horse under a bit of shade and talk. Every now and then he would stumble and then jump about with a bit of a kick, and then settle again.
We started to watch him a bit more; his head would start to drop, and the boys could see his eyes close. In that split second he would fall asleep, his back legs would buckle a bit and then that would wake him up. He'd jump in fright and prance for a few paces and I'd wheel him around and the conversation would continue like nothing had happened. It was a little unnerving at first being on a horse that was about to sleep but after a while we used to count him into it. Three, two, one… there we go! I went through a stage of pinching him when bed time seemed near. But I got sick of that and went back to letting him go to sleep.
The station manager came out for a run with us one day. We had smoko and I had hobbled Wiser up away from the other horse so he didn't spook them when he fell asleep. I thought nothing of it as it was common place now and the team knew what to expect of my steed. Within minutes Wiser was jumping about after his micro sleep. The second time it happened the boss asked what was going on. Disbelieving, Ray, the big boss swapped horses with me for the day. From his horse (which was the Rolls Royce of animals) I watched him put Wiser through his paces. As he roared past on ol' Wiser he said, "This is how you wake them up" or words to that effect. He didn't, and while giving the calves a break from walking about an hour or so later, Wiser fell asleep with Ray on his back. And so off they went again; Ray giving the horse heaps and Wiser at break neck speed.
The situation just got worse as the afternoon wore on, Wiser was now buggered and sleep was the only thing on his mind. Ray was ropeable, and I was riding the best horse I'd ever seen, let alone ridden. With the day done, I said good bye to Wiser. He had not reached the bar for horses in station life. It's not that the bar was very high, just that Wiser wasn't very good. Ray was right, it was a safety issue, but as I lay in my swag that night, I remember thinking of all the other 'safety issues' that I had experienced in my short time there. I also remember deciding it was best not to raise these issues with anybody.
---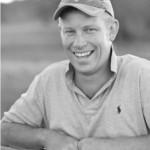 Ben Clinch
Ben Clinch has a strong background in agriculture and has experience in operations and project management. Before starting The Free Range Butcher he worked as jackaroo, camel handler, barman, security guard, handyman, and tiler. These days he manages the day to day running of The Free Range Butcher business, and you can usually find him out the front of the farmers market stall; often telling bad jokes, or offering samples to vegetarians. He's also the go to guy for sales, corporate enquiries, events, and silly questions.
---