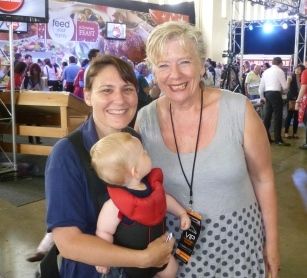 Maggie Beer's Tips for the Perfect Roast Chicken
If I ever get the chance to invite a celebrity chef to dinner at our house, I know who I'm inviting – Maggie Beer. It's not just Maggie's amazing cooking knowledge that I'd love to absorb; I think she'd be such a wonderful dinner guest with her warm and joyful personality. At MasterChef LIVE last year, I had a very brief opportunity to meet Maggie and she was as lovely and obliging in person as she appears on TV.
What I love about Maggie's cooking style is that she cooks the sort of food that we all actually eat at home, and she shares really simple tips for making it fabulous.
Here's Maggie's tips on a perfect roast chicken:
Wipe chook with paper towel (helps to get crispy skin), then rub with olive oil and salt.
Fold the wing tips under the bird (will avoid them drying out).
Place the chook on a roasting rack in a low-sided baking tray (helps it to cook evenly).
Cover the breast area with a strip of foil to prevent it from drying out.
Place the chook in the oven (pre-heated to 180 degrees) and cook for 45 minutes per kilo.
Remove foil from the breast and pour on a little olive oil. Return to oven for 30 minutes.
Test the bird with a skewer at thickest point (between the leg joint) to see if juice is pink. If juices are clear, remove the chicken from the oven.
To rest the chicken, turn it over to breast side down (juices will run into the breast and keep them moist).
Cover loosely with foil to keep it warm and leave to rest for 20 minutes.
Which celebrity chef would you love to invite to dinner and why?
Crispy chicken skin, Maggie Beer, Roast Chicken
---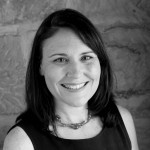 Alison Clinch
Alison Clinch has 20 years marketing experience gained in small and medium size business. She is especially passionate about supporting local communities, communications, and brand management. In her role with The Free Range Butcher Alison is responsible for the company's branding, promotion, advertising and website. Her experience in the kitchen and passion for good food also brings refreshing new ideas for our recipe suggestions. Initially working alongside her husband Ben at the farmers markets, Alison is more 'behind the scenes' now, and keeping busy with two young apprentices' / kids, Tom and Georgia.
---