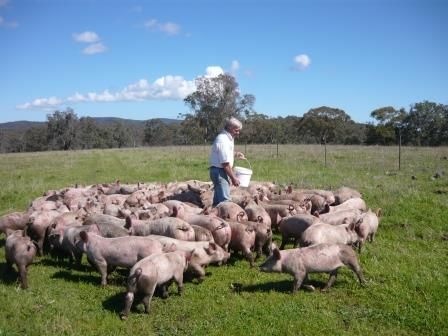 The Pigs Have Arrived at Blue Hills!
My dad Pete has many hats; father and family man, farmer, truck driver, meat salesman extraordinaire, fall back guy, and now, Free Range Pig Farmer!
The old bloke headed over to the Free Range Pig Mecca on Rob Roy Road, Inverell recently and picked up our pigs, and from all reports they have settled in well and are getting lost in the clover. Dad's work in the past months in preparation for their arrival, including building shelters, dividing paddocks and ensuring fencing is pig proof' has been well worthwhile. Much to my comfort, I have received reports most days saying, "The pigs are where they should be". The thought of some 100 pigs running into the bush has me sweating, as pigs don't take too well to being rounded up like sheep. With over 200 acres dedicated to them, our pigs are truly free range.
Lee and Kevin McCosker have been looking after free range pigs for some years and if there's something to know about free range pigs, Lee will know it; she has even written a book about it. Lee heads up The Free Range Pork Association and does a mountain of work with the Humane Society and their label, Humane Choice. Only recently Lee was in Canberra fighting against the big boys and many times she has become a thorn in their side. So who else would I buy pigs from?
Lee picked us out a number of her best pigs; some we intend to be the base of our herd, and some have Christmas written all over them. Finally my pig problem is solved – hooray! – (while Pete has gained another, he he!), and of course you can have Free Range Pork for Christmas.
free range pigs, Humane Choice, Lee McCosker, Melanda Park
---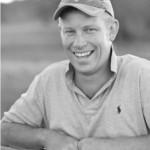 Ben Clinch
Ben Clinch has a strong background in agriculture and has experience in operations and project management. Before starting The Free Range Butcher he worked as jackaroo, camel handler, barman, security guard, handyman, and tiler. These days he manages the day to day running of The Free Range Butcher business, and you can usually find him out the front of the farmers market stall; often telling bad jokes, or offering samples to vegetarians. He's also the go to guy for sales, corporate enquiries, events, and silly questions.
---