Supermarket Copycats
I see now that Coles has followed our lead and has gone 'Hormone Free'. All our meat has always been hormone and antibiotic free, and we have never really made a big deal about it; why would we? Why would we give our animals something they didn't need? Then why would we talk up not giving an animal something that it doesn't need? Craziness!
Well now I'm crazy and on the bandwagon. What is good for the goose is good for the gander…You will note that on our website home page you will now see in bold 'All our meat is Hormone and Antibiotic Free'. And just in case somebody thought we might be feeding caviar to the cows, and lobster to the lambs, I can assure you we feed them grass, and at the moment there is plenty of it, to be honest there is too much.
You know by now that it's never 'quite right' for farmers. Some call it complaining, but to the farmer it's merely stating the situation that he has little control over; Mother Nature. With the massive amount of rain that we have had, we have more grass than we can handle; in fact a couple hundred more cows would be handy to mow it all down. As the summer grass gets high, and the wet weather continues, some of the feed goes 'rank'. The grass can turn sour as it breaks down because of the moisture and as a result is no good for finishing cattle, or lambs for that matter.
Lastly, I can leak a small piece of information that is the talk of the town of Barraba at the moment; we have a TV star in the making. A local bloke, who supplies lamb to us, is appearing on Farmer Wants a Wife! Farmer Charles is coming to a TV near you in early February and we wish him all the best. You can bet your last dollar that I will be milking the situation for all it's worth… keep an eye out for our mate at the markets soon!
anti-biotic free meat, farmer wants a wife, hormone free meat
---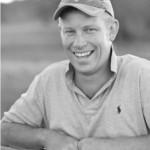 Ben Clinch
Ben Clinch has a strong background in agriculture and has experience in operations and project management. Before starting The Free Range Butcher he worked as jackaroo, camel handler, barman, security guard, handyman, and tiler. These days he manages the day to day running of The Free Range Butcher business, and you can usually find him out the front of the farmers market stall; often telling bad jokes, or offering samples to vegetarians. He's also the go to guy for sales, corporate enquiries, events, and silly questions.
---