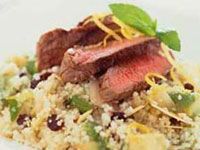 Recipe: Lamb, Avocado, Mint and Couscous Salad
Warm salads are perfect for summer meals; being light and filling at the same time.
Ingredients:
1 cup couscous
2 tablespoons olive oil
Grated zest and juice of 2 lemons
2 avocados
1/4 cup chopped fresh mint
2 tablespoons currants
1/4 cup flaked almonds, toasted
1 tablespoon olive oil, extra
Method:
Bring 275 ml water to boil and pour over couscous. Cover and allow to steam for 10 minutes.
Combine 1 tablespoon of olive oil and 2 tablespoons of lemon juice and brush over the lamb fillets.
Barbecue (or char-grill) the fillets, brushing with the oil and lemon until cooked as preferred. Cover with foil and allow to sit for 10 minutes.
When the couscous has absorbed all the liquid, gently fluff with a fork and fold in the diced avocado, mint, currants, almond, lemon zest and 1 tablespoon juice.
Place on serving plates.
Slice the lamb and arrange on top of couscous. Drizzle with the remaining lemon juice and olive oil.
Serves 4.
January 2011, Lamb, salad, Summer
---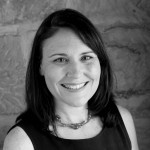 Alison Clinch
Alison Clinch has 20 years marketing experience gained in small and medium size business. She is especially passionate about supporting local communities, communications, and brand management. In her role with The Free Range Butcher Alison is responsible for the company's branding, promotion, advertising and website. Her experience in the kitchen and passion for good food also brings refreshing new ideas for our recipe suggestions. Initially working alongside her husband Ben at the farmers markets, Alison is more 'behind the scenes' now, and keeping busy with two young apprentices' / kids, Tom and Georgia.
---