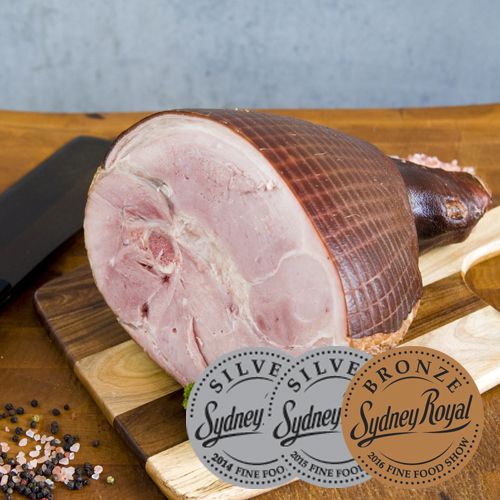 Cure, Smoke, Deliver, Enjoy!
The farm is as pretty as a picture at the moment. A great Spring with regular falls of rain have put feed on the ground for the start of Summer. The optimistic farmers amongst us hope for some good rain in December to keep this going. What a great finish to the year that would be, especially after the drought we were in at the start of 2016.
With Christmas now peeking around the corner, preparations are firmly in place, and long winded conversations with my mate Jack Hewitt from Oakleigh Pasture Pork have taken place. The plans for your Pasture Fed
Christmas Ham are smoothly rolling out. The culmination of months of hard work on farm, and dedicated work from our butchers who cure and smoke the pork inhouse, our Hams can be delivered direct to your door, if you order now. Our product is always limited; you see, pigs only have two back legs… and we only have a limited number of pigs. That is how we like it, we don't over stock our land, we don't overwork our people (Disclaimer: Except butchers, delivery drivers and market staff in December!), and the proof is in the Ham. We have been awarded medals in The Fine Food Awards for the last three years, and we continue to strive to produce an even better product.
If your choice is for an ethically raised, sustainably sourced, Pasture Fed Christmas Ham to be on your table this year, I encourage you to place your order online now for home delivery in the days before Christmas Eve. Or you can come to the farmers markets and place your order for pickup at one of our locations across Sydney. We always sell out of our product; it is limited. We will have more Hams this year than last, but we are in more locations and our home deliveries are spread wide from the Blue Mountains, to the Central Coast and across most of Sydney metro. It is a terrible thing to say, "No sorry, I can't help you this year." Our staff get disappointed on your behalf, I get bitter and twisted, and my Bank Manager wonders why in Hell don't I change the business model. But this is the way it is… Early Bird Catches the Worm!
Please note: All of our Christmas Favourites are Pre-Order Only and will be delivered week commencing 19 December (unless you specify otherwise at the time of ordering). If you have other items in your order, these will all be delivered at the same time (week commencing 19 December). 
---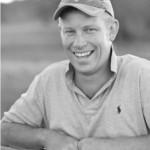 Ben Clinch
Ben Clinch has a strong background in agriculture and has experience in operations and project management. Before starting The Free Range Butcher he worked as jackaroo, camel handler, barman, security guard, handyman, and tiler. These days he manages the day to day running of The Free Range Butcher business, and you can usually find him out the front of the farmers market stall; often telling bad jokes, or offering samples to vegetarians. He's also the go to guy for sales, corporate enquiries, events, and silly questions.
---