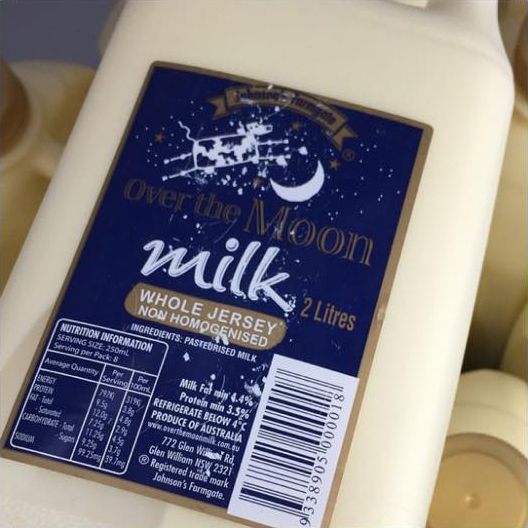 Jersey Dairy Milk… It's just better!
The Over the Moon range of milk reflects the passion and commitment founders Karl and Cathie Johnson have to providing fresh Johnson's Farmgate produce to their customers.
Much of our milk can be traced to the Williams families dairy operations at "Creebank" in the Hunter Valley. The Williams families are long-standing member-farmers of the Murray Goulburn Co-operative Co. Limited. Their herd of Jersey cows are grass fed on the lush pastures at the junction of the Paterson and Allyn River valleys. We also source milk from the Mathers family's dairy farming operations at "Fairdale" in the Richmond River Valley area of NSW's Northern Rivers region. The Mathers are long-standing members of the Norco Co-operative Limited. Their herd of Jersey cows are grass fed on the lush pastures of the Richmond River.
Our Jersey milk is pasteurised and bottled in the old-fashioned way, one small batch at a time, and it is not mixed with milk from other dairy farms..
Uniquely, the milk is non-homogenised. You drink our milk as nature intended – as a whole food with the cream on top. In this way, the physical structure of the milk remains intact. It tastes great and it's better for you.
But why is it better you ask?
Our Jersey cows give delicious milk, as nature intended – rich, full-flavoured, high nutritional and creamy. We think our milk is the finest Jersey milk available.
Jersey milk naturally has 15-20% more protein, 18-20% more calcium and higher levels of phosphorus and vitamin B12 than most other milk.¹
Jersey milk is rich in β-carotene relative to Holstein-Fresian cows milk. β-carotene is a natural pigment which, for instance, provides carrots with their orange colour. Jersey cows absorb the β-carotene in their diet thereby giving Jersey milk its creamy golden colour.² The human body is capable of converting β-carotene into Vitamin A, which is excellent for vision and skin health.
Jersey cows are genetically A2 β-casein protein dominant, as compared to Holstein-Fresian cows. Milk contains β-casein protein in A1 and A2 variants. The A2 β-casein protein may not cause the discomfort some people report from consuming dairy products which has been otherwise attributed to the dominance of A1 β-casein protein in milk from some other dairy cattle breeds.³
Source: ¹ American Jersey Cattle Assoc., ² Royal DSM, ³ A2 Dairy Products Australia Pty Ltd
cows, grass fed, jersey milk, milk
---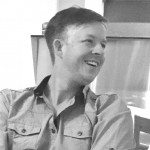 Will Roberts
With many years experience in hospitality and retail, Will Roberts now looks after Operations at The Free Range Butcher. With an eye for detail and superior customer service skills, Will makes sure that everything runs smoothly and customers have a great experience, everytime. Outside of work, Will is kept in line / busy with a wife and two young daughters.
---