Total Cooking Time: 45 – 50mins
Serves: 6
Ingredients:
1 Brown Onion, roughly sliced
1/2 cup Beef Stock
1 Heaped Tbsp Hot English Mustard
Salt & Pepper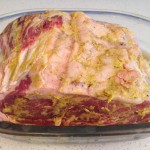 Method:
Remove Beef from the Cryovac packaging and sit covered out of the fridge for 30mins
Place the Onions in the bottom of a deep baking dish and pour over the Beef Stock.
Smother all sides of the Beef with the Mustard and then Salt & Pepper.
Cook in a preheated oven at 200 degrees for 20-25 mins per 500gm for Medium Rare.
Once cooked cover and let rest for 20 mins before carving.
Tips: 
While resting the meat use the juices in the bottom of the Roasting Dish to make your Gravy.
For more recipe ideas go to: www.freerangebutcher.com.au/recipes/