I love the movie
Looking for Alibrandi
, and I especially love the opening scene where multiple generations of Josephine's family are gathered in the backyard making Passata. The ritual alone is lovely, never-mind all the wonderful sauce that is produced!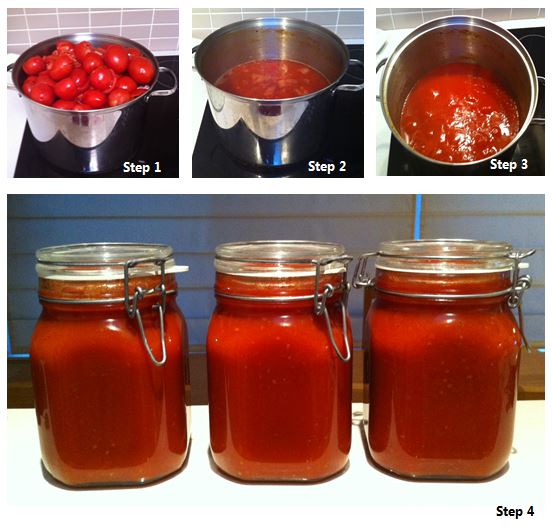 Making passata can be as simple or as involved as you like. For us, we like to keep it simple. Our version includes only tomatoes and white wine. We recommend not adding salt, herbs or any other flavours. This way your sauce can  be as versatile as possible and you add the flavours needed when you're ready to use the sauce in a recipe. Using 1kg of tomatoes you'll produce 3 x 1 litre jars of passata.
Ingredients:
4kg Roma tomatoes
1/2 bottle dry white wine
Method:
Wash and dry your tomatoes, cut in to quarters
Add all of the tomatoes to a large pot and pour in the white wine (Step 1)
Cover with a lid and cook on a medium low heat for 4 hours, or until the sauce has reduced by half (Step 2)
Using a stick blender, blend the sauce until it's as smooth as possible (Step 3)
Pour the sauce in to glass jars, allow to cool and then refrigerate (Step 4)
If you're interested in a true Italian method of creating Passasta, check out this recipe from Giovanni Pilu
.
 What's your favourite recipe that uses passata? We'd love you to share it with us below.