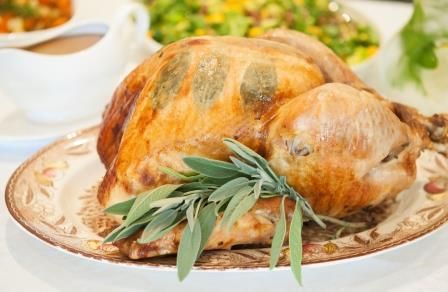 Guide to the Perfect Roast Turkey
For even cooking and crispy skin all over, elevate the turkey (breast side up) on a roasting rack to allow the air to circulate and completely crisp it up. Add a little water to the roasting pan (this will help keep the turkey moist).
For a subtle flavour you can also (carefully) slide thin slices of butter and whole sage leaves under the skin (as pictured).
Pre-heat your oven to 180 degrees and set the baking tray on the oven's bottom rack to prevent the breast from cooking too fast at the top of the oven. Keep an eye on the turkey as it cooks, and once the skin is browned, loosely cover the breast with foil to prevent it from becoming too dark. Covering the breast with strips of bacon or prosciutto also helps to keep the moisture in and adds extra flavour.
To test if cooked, pierce the thickest part of the thigh with a skewer. If the juices run clear, the turkey is ready. Transfer to a carving tray and cover loosely with foil.
One of the biggest problems with cooking a whole turkey is having dry breast meat and the number one reason is not allowing the turkey to rest. (You can also brine your turkey beforehand to ensure moist and succulent meat.) Once cooked, leave the turkey to rest for at least 25 minutes. To ensure it stays moist, rest the turkey breast side down so the juices run through the meat.
To store leftover turkey (if there is any!), allow it to cool slightly. Remove all of the meat from the carcass and store in an airtight container in the fridge for up to one week.
Guide to turkey cooking times
• 4kg – 5kg: 3 – 2 hours
• 5kg – 6kg: 4 – 2.5 hours
Guide to thawing your turkey
If you've had to freeze your turkey in the freezer, make sure you give it enough time to completely thaw out in the fridge. Here's a general guide for the amount of time needed:
• 4kg – 5kg: 65 hours
• 5kg – 6kg: 70 hours
• 6kg – 7kg: 75 hours
Once thawed, leave it in the fridge until ready to cook.
free range turkey, roast turkey, thawing turkey, turkey breast, turkey cooking times
---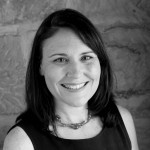 Alison Clinch
Alison Clinch has 20 years marketing experience gained in small and medium size business. She is especially passionate about supporting local communities, communications, and brand management. In her role with The Free Range Butcher Alison is responsible for the company's branding, promotion, advertising and website. Her experience in the kitchen and passion for good food also brings refreshing new ideas for our recipe suggestions. Initially working alongside her husband Ben at the farmers markets, Alison is more 'behind the scenes' now, and keeping busy with two young apprentices' / kids, Tom and Georgia.
---