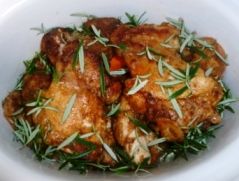 Recipe: Slow Cooker Garlic & Rosemary Chicken
A yummy dish that includes winter vegetables and hearty herbs. I chose to brown the chicken pieces first and I think it was worth the extra step.
Ingredients:
3 tbsps of flour
1 tbsp paprika
12 cloves of garlic, peeled, and thickly sliced
2 carrots, sliced
2 parsnips, sliced
1 tbsp fresh rosemary
1.5 cups chicken stock
Method:
Place the chicken pieces into a clean plastic bag (see Tip below) with the flour and paprika and toss to coat.
Optionally, heat a knob of butter in a heavy based pan and brown the chicken on all sides.
Put the garlic, carrots and parsnips in to the slow cooker, sit the chicken pieces on top and scatter over the rosemary leaves. Season well with salt and pepper.
Pour in the chicken stock and cover with the lid.
Cook on low for 6-7hours or on high for 4-5 hours.
Serve the chicken with the sauce from the slow cooker, the carrots and parsnips and any other seasonal vegetables.  Serves 6-8.
TIP: Use a zip lock bag rather than a freezer bag and you'll find that the flour and paprika mixture will perfectly and evenly coat the chicken pieces. 
---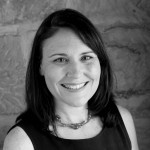 Alison Clinch
Alison Clinch has 20 years marketing experience gained in small and medium size business. She is especially passionate about supporting local communities, communications, and brand management. In her role with The Free Range Butcher Alison is responsible for the company's branding, promotion, advertising and website. Her experience in the kitchen and passion for good food also brings refreshing new ideas for our recipe suggestions. Initially working alongside her husband Ben at the farmers markets, Alison is more 'behind the scenes' now, and keeping busy with two young apprentices' / kids, Tom and Georgia.
---