Farming in Frosty Times
I have previously touched on the need for consumers to understand how their food is grown and seasonality is a part of this discussion. The truth is, grass fed meat eats better at some times of the year than others. The influencing factors include the location of the farm, the season, and the amount of rainfall the farm has received.
Feedlots are the mechanism by which mainstream cattle and lambs are finished to suit the specifications of the large supermarket chains and meat wholesalers. That is a simple explanation; there is a fair bit more to it with feedlots almost a science unto themselves. But feedlots allow the big boys to pump out meat to the same specifications day after day, year after year, for a minimum of cost – no matter how dry or wet the weather has been or what season it is.
In contrast, grass fed meat can vary with seasonal conditions. In our area this period is our hardest of the year with temperatures below zero most nights and some days not reaching 5 degrees. Top this off with heavy frosts ripping nutrients and proteins from grasses and turning pastures into slush, and times are a bit tough for the animals, as well as the farmers! Our neighbour and recent lamb supplier – Charles Roche – recorded minus 11 degrees on his verandah one night in June, worse still it was only minus 6 at 9am – at times like this I'm glad to be in Sydney…
As a result we will be purchasing grass fed meat from outside our area for the coming few weeks or until the weather turns the corner at home. We always choose for quality and to be honest it's just not quite there at the moment… they're all too busy trying to keep warm!
farming conditions, feed lot, grass fed meat taste, supermarket meat
---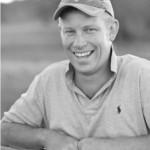 Ben Clinch
Ben Clinch has a strong background in agriculture and has experience in operations and project management. Before starting The Free Range Butcher he worked as jackaroo, camel handler, barman, security guard, handyman, and tiler. These days he manages the day to day running of The Free Range Butcher business, and you can usually find him out the front of the farmers market stall; often telling bad jokes, or offering samples to vegetarians. He's also the go to guy for sales, corporate enquiries, events, and silly questions.
---