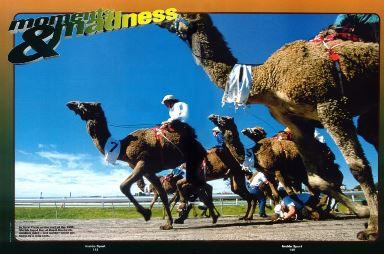 Position Vacant: Camel Handler
I was listening to the radio this week and heard Richard Glover interviewing a girl involved with the camel races at Bankstown. I don't have a lot of strings in my bow, but, believe it or not, I've had some experience with camel racing.
Many moons ago, not long after returning from my jackeroo stint up north I got a call from a good mate of mine who was organising a Camel Race Day at Randwick Racecourse. It turned out that the livestock contractor supplied the camels and jockeys but not staff to handle the camels on the track. So I got a few mates together and the next thing we knew we were standing on Randwick Racecourse on the morning of race day. It was a cracking day; bright sunshine, the smell of freshly mowed grass, and a heap of the Emirates girls getting about for us to look at. Between all of us, the only experience we had with camels was Timmy who had had a ride on one when he was on holidays with his folks somewhere. Not ever thinking we were underdone, we were all country boys, we could ride a horse… she'll be right mate.
The camel truck turned up and we took hold of our steeds. There were immediately several noticeable differences between a camel and a horse. They most obviously look different, they smell and we quickly learnt that camels have attitude. As we walked them around the track we were discussing our plan for the start; the jockeys seemed to have limited control. There were no barriers being used and we were fairly keen to get it right as the crowd had built significantly and this was turning in to a fairly big event. We agreed that the best way to handle this would be to roughly line up across the track, let go of them after the gun went off, and then it was every man for himself as the camels took off. Surprisingly no one got hurt and the first couple of races went off without too much drama. The third race however was a different story.
Being short on camels, the contractor brought out the camels from the first race again for race three. Having been on the starting line already, these camels were a different kettle of fish this time around. The camels were snarling and biting at each other and keen to get down the track (we were keen to get out of their way too). We decided to do a walking start. As we reached the start my camel got bitten by the bugger next door and pushed forward out in front of the line, knocking me over in the process. The starter didn't see me get knocked over and the gun went off. I was on my way to my feet when I heard the gun go off and in that split second I knew the next few seconds could be very painful. One lesson learnt from this experience is that a camel can't see you when you are behind his head and in front of his feet; as a result my camel swiftly kneed me in my ribs before running over the top of me. Thinking that the foetal position would be my best option for the next few seconds, I stayed on the ground until the last of the camels had run over me.
After a trip to the medical shed I was cleared of broken bones and made my way out to the track once again. I re-joined the boys and proudly showed off my bruises. We walked the camels up one more time and let them go for the last race at Randwick. We retold the stories that night over a few beers, still smelling like sweaty camels… even after three showers.
A month or two later a mate called me to tell me about the photo above in Inside Sports magazine. It really was a Moment of Madness! For your viewing pleasure my camel is actually number 7…the one already in the lead!
Can you top this story? What dangers have you encountered in the name of work?
---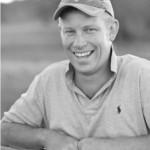 Ben Clinch
Ben Clinch has a strong background in agriculture and has experience in operations and project management. Before starting The Free Range Butcher he worked as jackaroo, camel handler, barman, security guard, handyman, and tiler. These days he manages the day to day running of The Free Range Butcher business, and you can usually find him out the front of the farmers market stall; often telling bad jokes, or offering samples to vegetarians. He's also the go to guy for sales, corporate enquiries, events, and silly questions.
---